The mere thought of hosting guests can bring on the overwhelming urge to remodel your entire house to create an inviting and luxurious space. Luckily for your wallet (and your calendar!), completing a few simple, colorful projects can make a world of difference the day before your big event. Read on to discover three beautiful and vibrant DIY projects that come together quickly so you can blow away your guests with minimal effort!
A Beautiful Aqua Accent Wall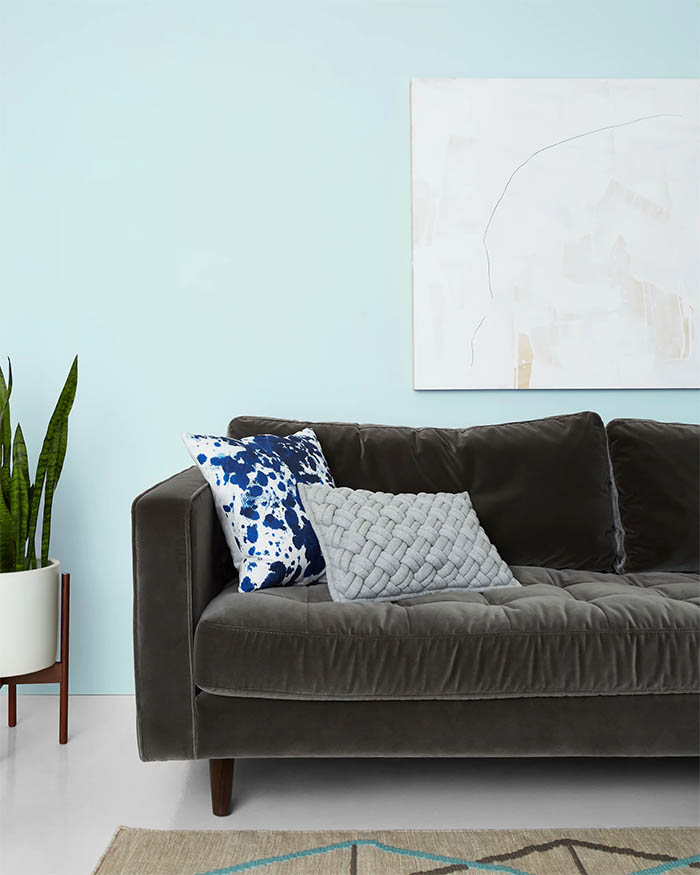 Statement walls are all the rage on social media and for good reason: a single, brightly painted focal point can lend visual interest to any room. Whether behind the couch in the living room or as an unexpected addition to the dining room, a burst of color will cause guests to linger. When selecting your paint color, consider what sort of mood you'd like to create and what complementary colors will pair best with your existing furniture. An ethereal, robin's-egg blue like Swimming SW 6764 by Sherwin-Williams will simultaneously create energy and calm those who enter the room.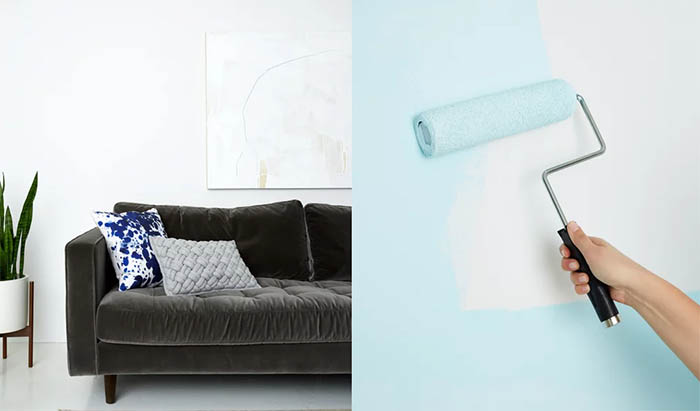 Get prepared for the project with painting essentials. You'll need a paint roller, a paint tray, a drop cloth, primer, and Sherwin-Williams Emerald® Interior Paint & Primer in One.
To achieve the look, first stir the paint to ensure the color is evenly blended.

Next, use your paint roller to create a W shape on the wall with a light coat of paint for optimal coverage. Stir the can of paint to ensure the color is evenly blended, and begin to cover your wall in an even coat of paint using your foam roller.

Allow the wall to dry for four hours after your first coat before moving on to your second coat of paint.

Once the paint has dried, style your furniture to highlight your handiwork.
A Cool Coatrack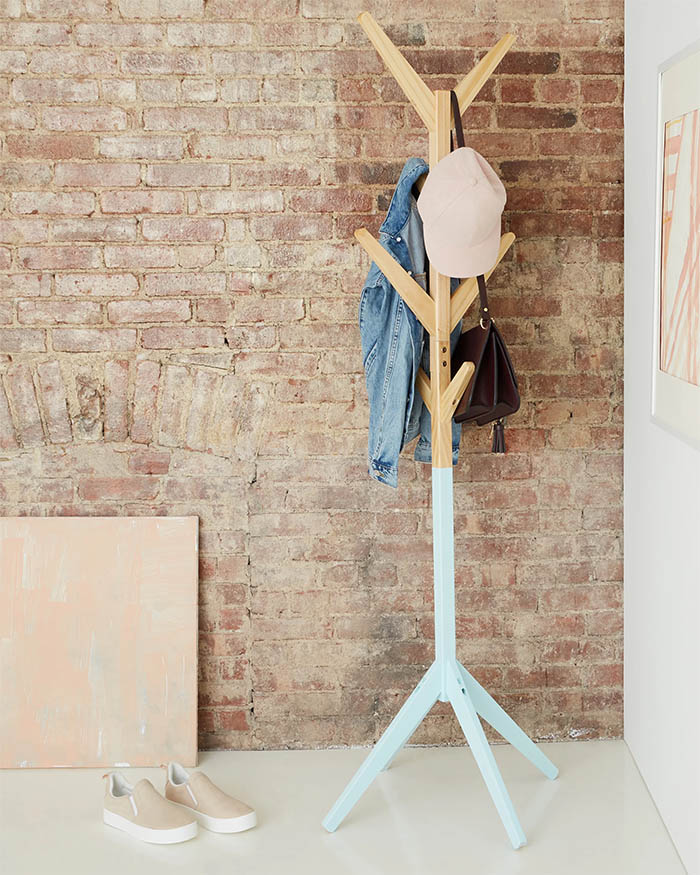 Dip-dyed furniture and home decor is lighting up Pinterest thanks to its unconventional and eye-catching use of color. Give your space a colorful flourish by creating your very own dip-dyed coatrack with pale blue paint. After all, who wouldn't want to hang their hat and coat on a rack that's nearly as stylish as the clothing it holds?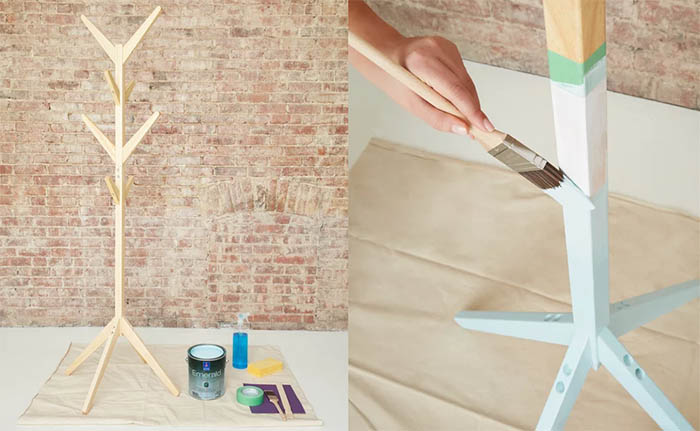 Before beginning the project, collect the tools you'll need to create the piece. You'll need Sherwin-Williams Emerald® Trim, Sherwin-Williams Extreme Bond Primer, a simple wooden coatrack, a sponge, a gentle cleaning solution, sandpaper, a paint brush, painter's tape, and a drop cloth.
First, clean the wood using your sponge and cleaning solution to prepare the coatrack to receive paint.

Next, set the stage for the dip-dye look by wrapping a piece of painter's tape around the midpoint of the coatrack to separate the portion that will be painted from the portion that will be left its natural hue.

After taping, it's time to prime! Prime the rack below the tape line using the Extreme Bond Primer. Selecting a primer that is specifically designed for the type of material you're working with will ensure each paint of coat is even and long-lasting.

After allowing the primer to dry, paint the base of the rack. Make sure to allow sufficient time for the first coat of paint to dry before moving on to the second (up to four hours).

Remove your tape when the paint is still tacky.

Once your second coat of paint has dried, display your favorite hat, crossbody bag, and jacket on your revamped rack, and get ready for compliments!
A Beautiful Bench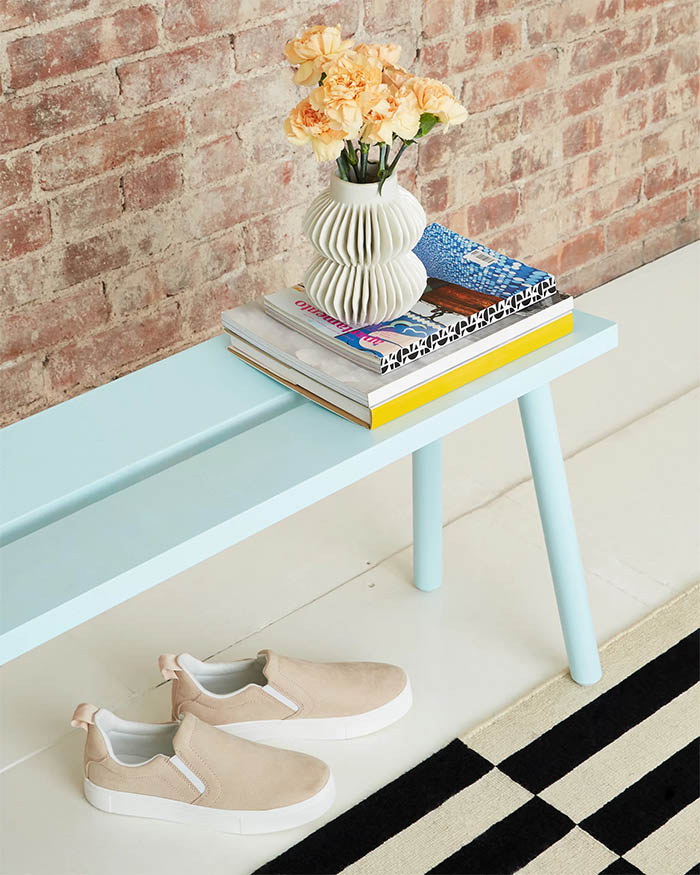 A bench is the ultimate multifunctional entryway item that has the power to stop guests in their tracks the second they step in the door. Whether serving as extra seating during a party, a place for shoes, or a surface for creating a vignette of books and flowers, customizing a bench will serve double duty as a decorative and practical storage solution.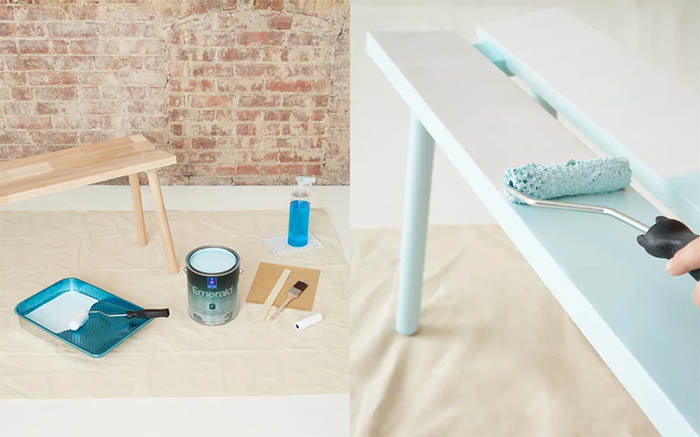 Take a moment to shop for the items you'll need to ace your painted bench project. You'll need Sherwin-Williams Emerald® Trim, a paint tray, primer that accords with painting wooden furniture, a drop cloth, a sanding sponge, wood cleaning solution, a cleaning cloth, a paint brush, and a paint roller.
First, gently clean your bench using your wood cleaner and a cloth.

Then, use a piece of sandpaper to carefully buff away any uneven edges and create a level surface. When selecting your sanding materials, consult a store manager to ensure the sander you've chosen is appropriate for the surface you're refinishing. Be sure to cover your nose and mouth when sanding the bench.

Afterward, clear away dust and prime your bench using a paint roller and a primer created for use on wood surfaces.

Once the primer has dried, use long, even strokes to cover the bench in paint with your paint roller. Use your brush for precision work. Allow the first coat to dry before adding a second.

Once your bench has fully dried, set the accent piece in a place of pride in your entryway for guests to enjoy!