It's no wonder New York, home to more billionaires than any other city in the world, houses some of the most extravagant havens on the planet ultra-swank residences built and furnished with only the finest, buoyed by a mind-blowing list of perks. But if there's one desirable feature most lavish dwellings in the City sorely lack an add-on that, in reality, is a pretty common find in fancy homes everywhere else it's a pool to call its own.
[contentblock id=2 img=adsense.png]
Hindered by the concrete jungle's scant square-footage, the trend of sweetening luxury homes with exclusive natatoriums long eluded the Big Apple that is until a new wave of ritzy residentials recently began to rise, giddy to break the norm.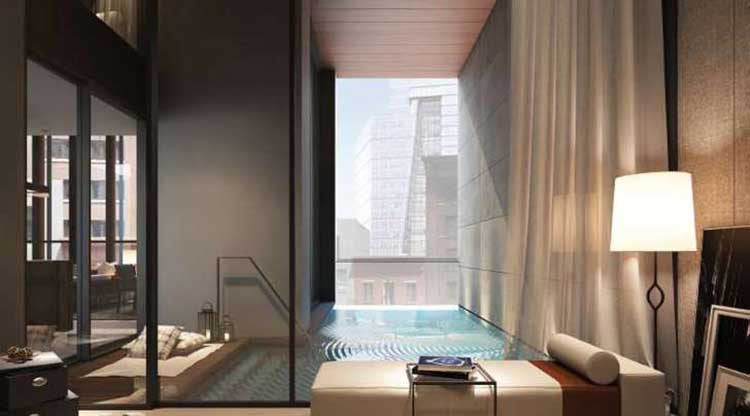 Soori High Line's Hot Lineup
Now under construction at 522 West 29th Street, Soori High Line (unofficially) stands to boast the greatest number of homes with private natatoriums in NYC once it's completed.
Apart from featuring soaring ceilings, wall-sized windows, and Town and Country fireplaces, 16 of the 31 open-concept residences are set to house heated pools, including a 3,572-square-foot, five-bedroom, four-bath duplex originally listed at $10.995 million.
[contentblock id=1 img=adsense.png]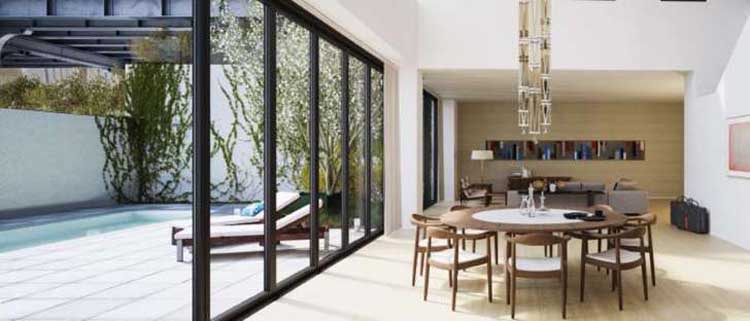 505's Tasteful Townhouse
Sprouting up along the High Line in West Chelsea, 505 West 19th Street offers 35 boutique abodes split between two 10-story buildings, linked together by an elongated lobby that runs beneath the elevated greenway.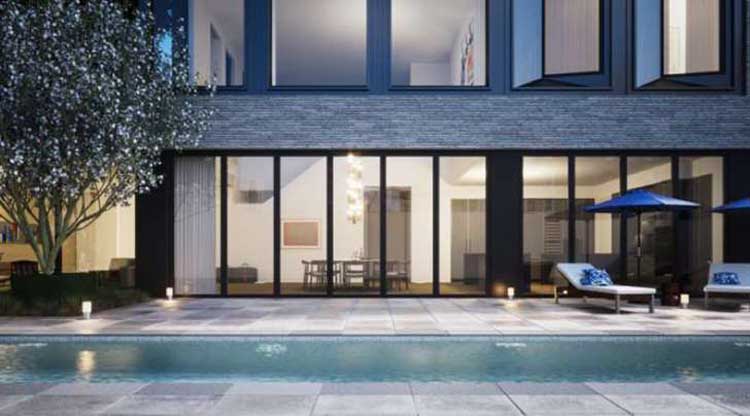 One of only eight homes in the western tower, the residential's lone townhouse—soon to hit the market for $11.75 million—is a 4,241-square-foot, four-bedroom duplex, accompanied by a 3,000-square-foot private outdoor area garnished with a 50-foot-long pool.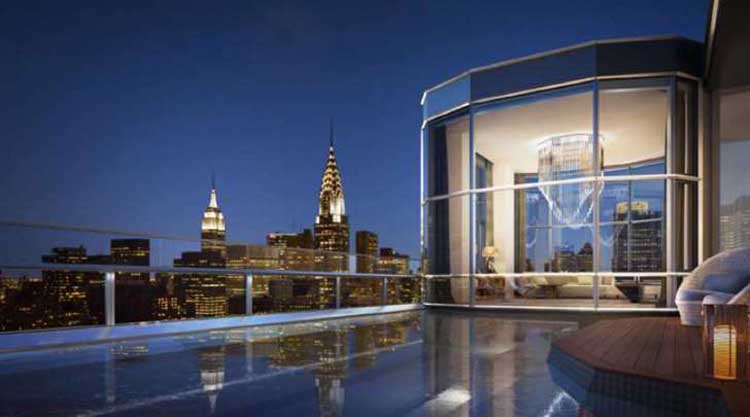 50 UN Plaza's 'Decked-Out' Duplex
Poised across the street from the United Nations' headquarters, the 43-story tower at 50 United Nations Plaza is easily one of the most esteemed addresses in town.
Offering 88 plush residences (the smallest of which are 1,147-square-foot one-bedrooms priced around $2.5 million), the condo's crème de la crème lies in its one-and-only duplex penthouse a 9,704-square-footer with four oversized bedrooms and seven baths spanning the building's entire top two floors, quietly being shopped around for $70 million.
[contentblock id=3 img=gcb.png]
Though the supreme pad has a 525-square-foot terrace on its lower level, an even more impressive outdoor space can be found upstairs, where an infinity-edged pool accompanied by a 325-square-foot deck rests between the glass-encased entertainment room and master lounge, overlooking unbeatable views of the surrounding cityscape.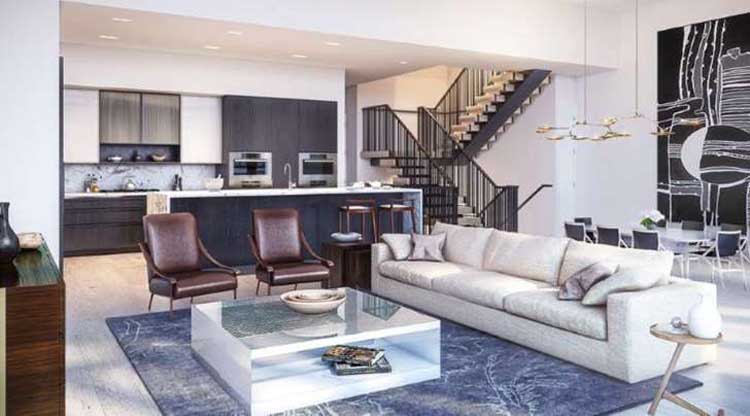 11 Beach Street's 'Sunken Jewels'
Now blossoming in Tribeca, 11 Beach Street offers 27 high-end homes ranging from three to five bedrooms, the priciest of which, unshockingly, are its two penthouses, perched on the 10-story building's top floors. The residential's most talked-about units, however, aren't the ones at its peak, but the ones at its feet namely, the trio of triplex townhouses tucked at its base.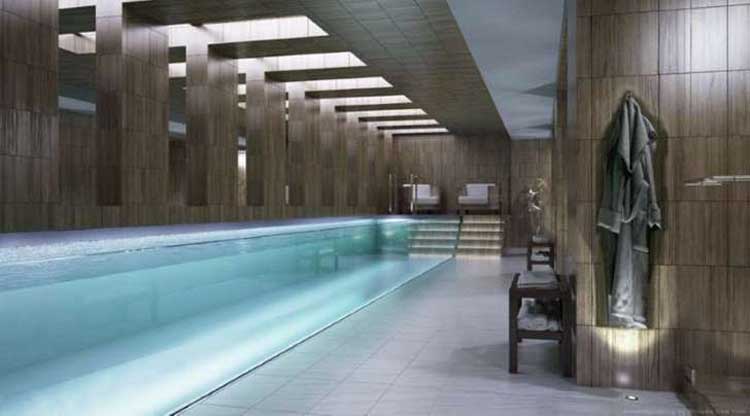 Though they don't offer the same sweet views and outdoor square-footage as their loftiest neighbors (tagged at $22.5 million, 5,985-square-foot "PHB"—topped with a 1,947-square-foot rooftop terrace is asking almost double 6,169-square-foot "Townhouse A," now listed at $12 million), the townhouses have attracted a ton of attention in their own right, thanks to a spectacular feature unique to the three: a full-floor private spa with a steam room, sauna, and rainforest shower stashed in each of their subterranean levels, complemented by a 50-foot stainless-steel pool with glass walls.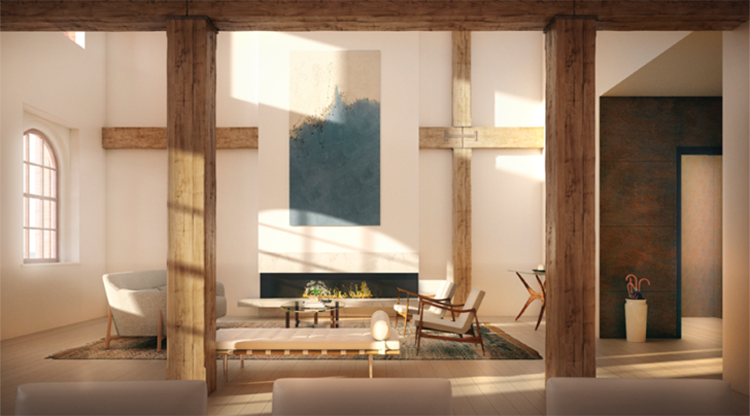 443 Greenwich's Absolute Ace
Newly restored and LEED certified, 443 Greenwich showcases 53 plush havens encircling a 4,000-square-foot courtyard, including eight duplexes and triplexes ranging from 5,000 to 9,300 square feet. Hands down the building's most dazzling residence is Penthouse A a bona fide behemoth featuring five bedrooms and six-and-a-half baths, now on the market for $51 million.
The hefty price tag is not only justified by the home's awesome 8,569-square-foot interior, but also by its massive rooftop terrace: a sprawling area wrapped around the glass-encased entertainment hub and master lounge, anchored by a pool rimmed with polished stone slabs.