What is it?
While ancient immortals may insist that there can be only one, Toyota clearly begs to differ when it comes to SUVs given their continued popularity.
The firm already offers the C-HR, RAV4 and Land Cruiser in the UK; recently revealed the Yaris Cross; is putting the finishing touches to an electric SUV; and has even reinvented its Aygo city car as a crossover. But that still leaves room for something bigger, which explains why Toyota has finally brought the Highlander to these shores.
Now in its fourth generation, the Highlander has long been a key part of Toyota's line-up in the US and other countries. To Americans, it's a mid-size SUV, but over here the seven-seater is very much on the large side.
It's not exactly subtle, but the Highlander hides its size relatively well, perhaps helped by the RAV4-esque styling bringing a sense of familiarity. It manages to strike a difficult balance of classic rugged SUV design cues with the more refined, distinctive styling that has been the mark of recent Toyota models.
The cavernous interior will be broadly familiar to Toyota drivers, too. It's well-appointed, comfortable and both Excel and Excel Premium trim offer plenty of kit, even if it ultimately lacks the premium sheen offered by the likes of similarly sized machines from Audi and Volvo, and which Toyota hopes the Highlander might be able to pinch sales from.
That isn't to say it's unpleasant, though. In fact, the touchscreen-averse will welcome the fact the 7.0in infotainment screen is built into a dashboard packed with assorted switchgear. All the essential controls are within reach of the driver, who also gets a decent mix of analogue and digital displays and, in Excel Premium models, a head-up display.
The panoramic roof adds to the spacious feel – not that the Highlander really needs to feel bigger inside – while comfort features include leather heated and ventilated seats, three-zone air conditioning. Storage compartments and cubbies dot the cabin, alongside an array of USB and other charging ports and a decent JBL sound system. Passengers in the second row will find plenty of space, while the third row of seats is certainly usable – although with the expected caveats that adults might not enjoy extended journeys back there.
With the rear two seats folded down, the Highlander offers a cavernous 658 litres of storage, rising to 1177 litres if you also hide away the second row. The space in the back is also very versatile: the second row of seats slide 180mm to ease access, and when folded down offers a fully flat floor.
The Highlander is offered with several powertrains around the world, but for UK buyers there can be only one: a 244bhp petrol-electric hybrid. Seems odd given most premium large SUVs the Highlander is aimed at come with plug-in hybrid tech and the RAV4 has such a system. But Toyota claims a standard hybrid is more suited for longer journeys typically made by large SUVs.
Still, with the 2.5-litre engine joined by an electric motor on each axle to offer four-wheel drive, it offers plentiful power for a car of this size.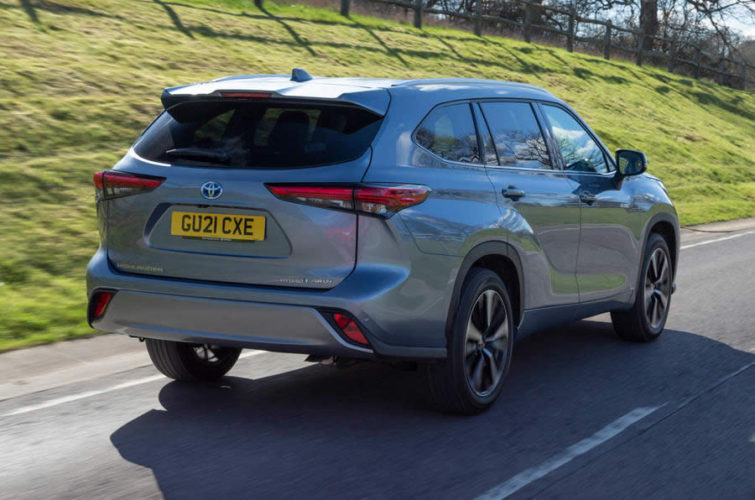 What's it like?
By default, the AWD-i drive system sends all the power to the front axle but, using the rear motor, can deploy 80% to the rear axle when needed. The hybrid powertrain has an official fuel economy of 39.2-39.7mpg – we averaged in the mid-30s on our mixed test route – with CO2 emissions of 160 to 163g/km.
As you would expect, considering Toyota's long experience of hybrids, the integration of engine and motors is generally excellent, and the electric torque means the Highlander gives a decent kick from a standstill. Possibly too decent: a delicate right foot is sometimes needed to avoid a bit of wheelspin and engine revving, slightly blunting the otherwise refined feel.
The familiar 'rubber banding' effect of a continuously variable transmission is evident, which can lead to the Highlander sounding a little bit whiny and loud under acceleration. But once settled, it cruises along effortlessly, while the ability to run on electric power only at up to 78mph – albeit for very limited periods – adds some refinement.
Predictably, the Highlander doesn't offer a particularly dynamic or involving drive.
On a smooth road and in most traffic, it's particularly relaxed and smooth, the suspension soft enough to soak up bumps but not so much that the ride becomes overly wallowy. You would expect a large seven-seat SUV to focus on relaxed comfort, and the Highlander certainly succeeds on that count.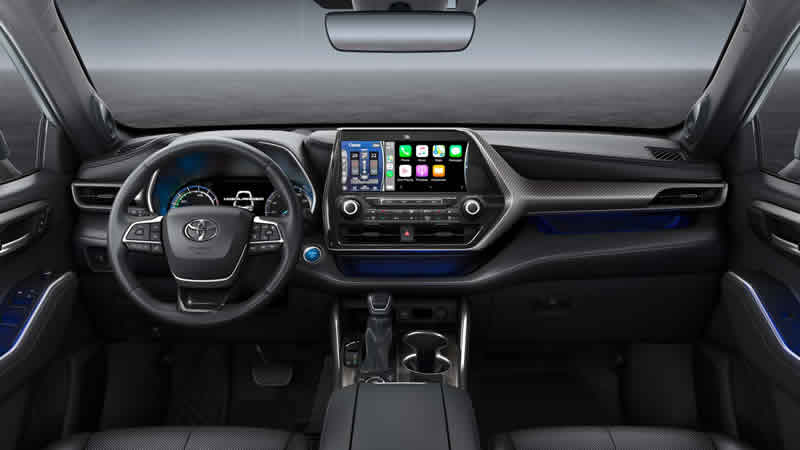 Should I buy one?
There aren't exactly many seven-seater hybrid SUVs on the market, and as a result, the Highlander finds itself in a niche almost by itself. It's more powerful, better furnished, and more expensive than other hybrid seven-seaters, while cheaper, perhaps less polished, and without the potential BIK and other advantages of similarly sized premium plug-in hybrids.
So for those seeking a well-appointed, spacious, and wholly practical large SUV, the Highlander is an intriguing option that's definitely worthy of consideration, and it's also a welcome addition to Toyota's ever-growing UK fleet.