Her twee '50s style dresses became almost as ubiquitous as her brash but beguiling pop ditties. But it seems like Taylor Swift, now 24, is plotting a new course in her style adventures as she rocked up to the ACM red carpet in an outfit that oozed sophistication and grown-up sexiness.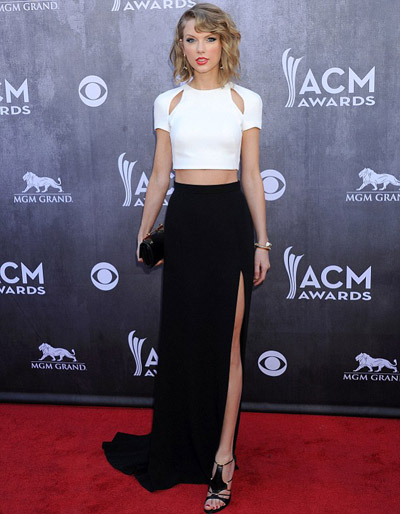 Featuring a simple but effective crop-top with cut-outs on the shoulders, the trim 5ft10 singer let her midriff do the talking and added a flash of a long leg from her long skirt. The Red singer famously likes bright colours, as her album title suggests, but she opted for a mature palette of black and white which evoked imagery of the silver screen.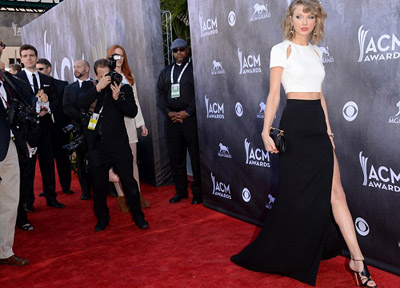 Her jewellery was old Hollywood, almost Art Deco when it came to the earrings, and the girlish fringe and ponytail replaced by Marlene Dietrich-style bobbed waves. Maybe after all the rotten lovers the girl has put up with, the woman who has emerged really wants to be alone. ne thing's for sure, Taylor Swift the one who now looks like trouble.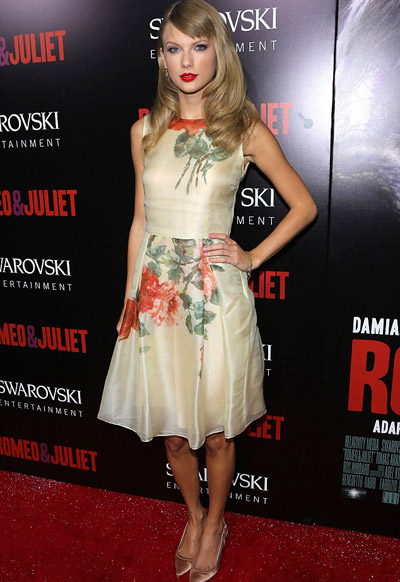 Taylor Swift on a 15 week break from her critically acclaimed world tour, which is also entitled, Red. She also has a cameo role in new Weinstein flick, The Giver, based on the novel by Lois Lowry. The star has been busy adding to her property portfolio during her tour break, buying two adjoining  apartments in New York's trendy Tribeca neighbourhood previously owned by director Peter Jackson for a reported $20 million.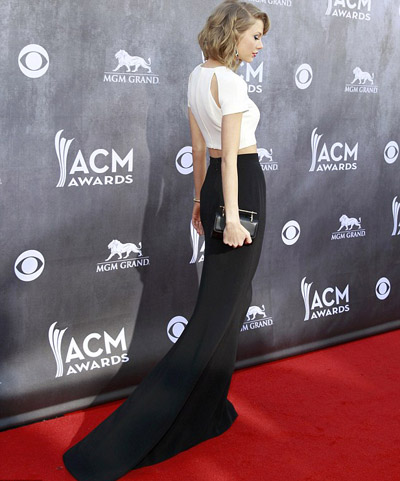 That is a drop in the ocean for Taylor Swift who Forbes estimates is worth some $220 million. Taylor is due to go back out on the road on May 30 when she will play in Shanghai, China. She kicked off the tour in support of her award-winning album Red on March 13, 2013 in Omaha, Nebraska and is due to end on June 12 in Singapore. Meanwhile, Jamie Lynn Spears stepped out of her sister's shadow to confidently strut the red carpet. The official Social Media Correspondent, Jamie Lynn flashed her wedding rings after tying the knot last month.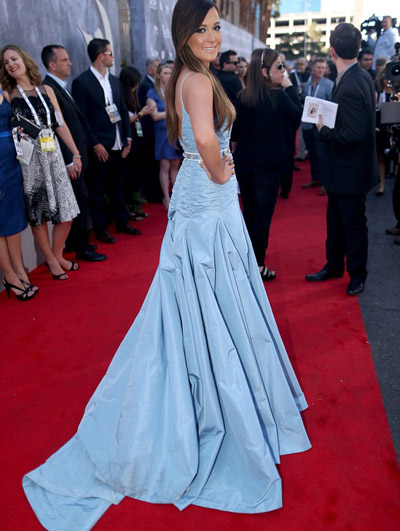 The 23-year-old arrived in a short, flirty, patterned dress which she paired with eye-catching bright heels. She kept her accessories simple, with all attention on the large silver cuff on her wrist and the dress showed off her toned pins. Jamie Lynnlong blonde hair – most like hair extensions like her sister favours – was left loose around her shoulders.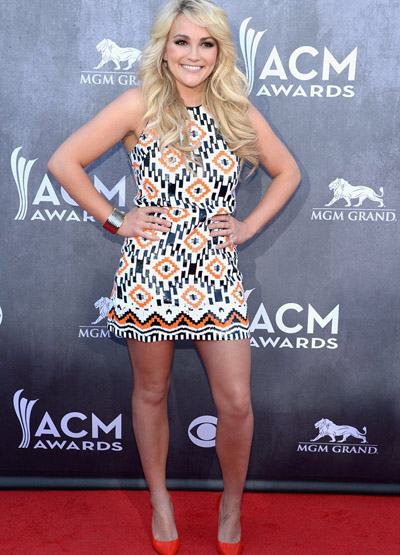 The starlet tied the knot with James Watson in New Orleans last month with her five-year-old daughter Maddie acting as flower girl while Britney was a bridesmaid. Jamie Lynn wore an elegant white lace gown with floral detail, a fishtail cut and a dramatic lacy veil, changing her look from ceremony to reception by letting her blonde locks down.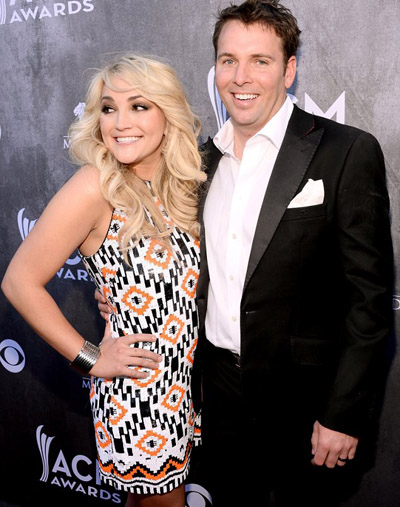 Maddie wore a matching but miniature version of her mother's dress, and the pair both carried pastel coloured rose bouquets. Meanwhile Britney was clad in a floor-length, form-fitting grey bridesmaid dress, and their mother wore her own white gown. Jamie Lynn was previously engaged to Casey Aldridge, the father of her daughter, before they ended their relationship four years ago.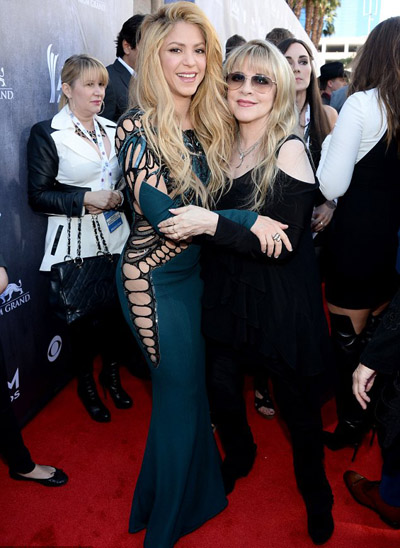 It has now been six years since Jamie Lynnfell pregnant with Maddie at the age of 16 while starring on Zoey 101. And it seems that the plan is for marriage to come before any further babies at this point. As well as her nuptials and following her successful single, Jamie Lynn is preparing to release a country album. And the awards ceremony would be nothing without the king and queen of country music.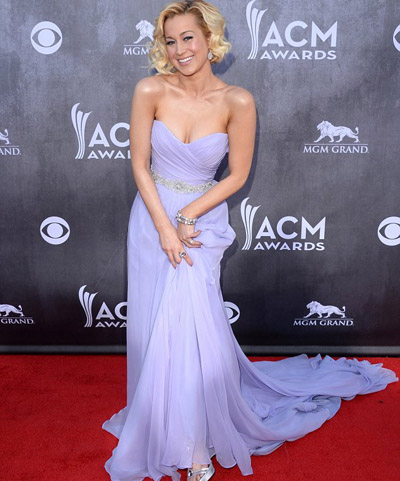 Miranda Lambert has been working hard to shed pounds the natural way, adamantly denying going under the knife. And she was a knockout on Sunday night on the red carpet at the awards in Las Vegas, looking better and slimmer than ever in a plunging nude dress which showed off her incredible figure. The country music star was glowing as she posed beside her husband Blake Shelton, who is co-hosting the event with Luke Bryan.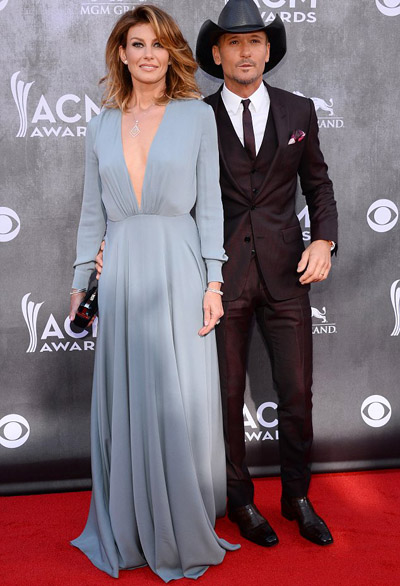 Blake didn't even attempt to compete with his gorgeous wife and went semi-casual in jeans with a blazer, suit and waistcoat. Shakira, who has collaborated with her The Voice co-star and country music superstar Blake, on her latest album, arrived in a revealing full-length dress with cut-out panels down the sides. It showed off every inch of her flawless figure and featured a patterned bodice. The star's long blonde hair tumbled in loose waves around her shoulders.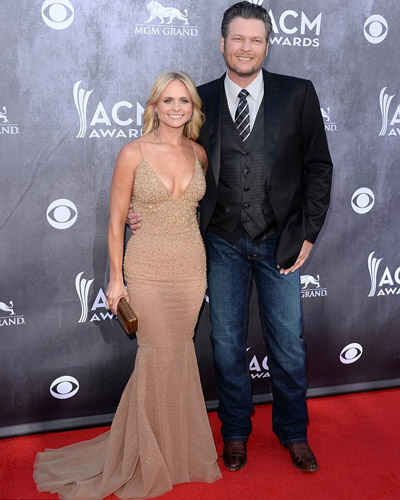 Kellie Pickler, who shaved her head in 2012 in an act of solidarity with her childhood best friend, who was diagnosed with breast cancer, was dressed to impress in a strapless lavender gown. Her short blonde hair was teased into curls, which fell just above her shoulder, and she pouted and posed for the cameras as she took her turn in the spotlight. Meanwhile, although George Strait is thought to be a sure bet in the entertainer category of the year at the Academy of Country Music Awards, Shelton isn't so sure.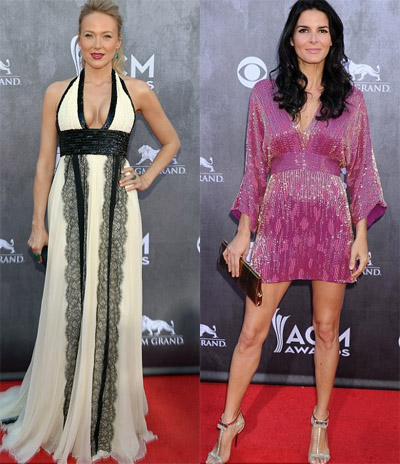 While the beloved star is on something of a victory lap after winning the same trophy at the rival Country Music Association Awards five months ago, Blake thinks he could have some competition. Sunday's night's ACM Awards are held in Las Vegas where there's no safe bet, after all, and the academy's once-controversial decision to open its top honor to fan voting makes the category enjoyably unpredictable.'I think George Strait probably has the biggest overall fan base of any of us, but will they take time to vote?' Shelton said. 'That's what we'll find out, I guess."It's an interesting thing,' said Luke Bryan, Shelton's ACMs co-host. -Dailymail