He's about to start the European leg of his 20/20 Experience World Tour. But first Justin Timber lake took time to enjoy himself with beautiful wife Jessica Bail. The 33-year-old soaked up the sun as he water skied and dove off a boat with his bikini-clad spouse in the waters off Barbados last week.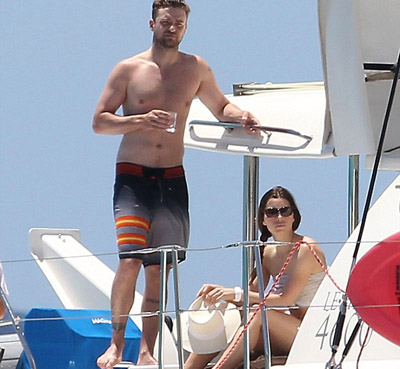 Wearing a pair of board shorts, Justin showed off his fit torso and went shirtless while lounging on the vessel. Channeling his inner Hilario Baldwin, the Suit And Tie singer practiced yoga poses and could be seen in variety of stretches including downward dog. After attempting to tan his pale skin, the former boy bander cooled off by diving head first into the sea. He later threw on a wet shirt and life preserver and got ready to show off his skills on water skis.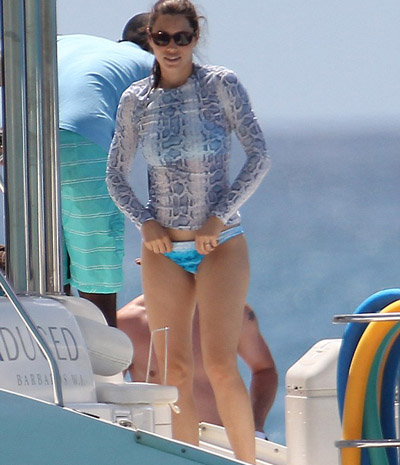 The handsome crooner held on tight and got his bearing as the boat pulled him along. He managed to get somewhat upright as the boat picked up speed and carried him further out to sea. While initially seen lounging on the boat and chatting up Justin, the Total Recall star also showed off her sportsmanship by hitting the the surf on water skis.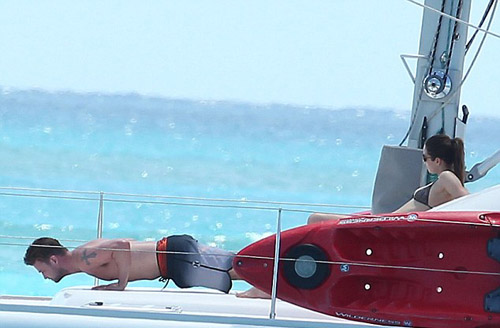 The gorgeous actress seemed quite skilled as she maneuvered the waves with ease. Since Justin wrapped up the U.S. leg of his tour earlier this month, the couple has taken time to vacation near Barbados for a few days. Afterwards the duo — who has been married for two years — could be seen saying goodbye to friends and staff members of the resort they were staying at.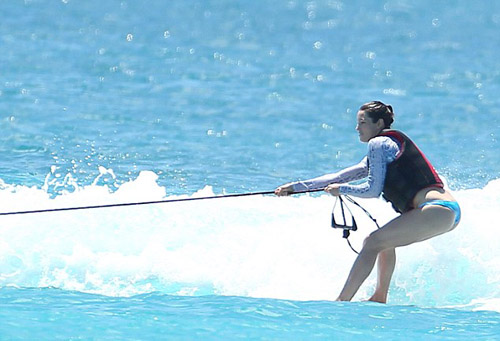 Sun kissed and relaxed, Justin and Jessica were all set to board a private jet and start their trek back home. JT will have a few more days before he has to go back on the road to continue the tour. Justin began dating Jessica Biel in 2007 after breaking up with Cameron Diaz. They became engaged in the mountains of Montana in December 2011.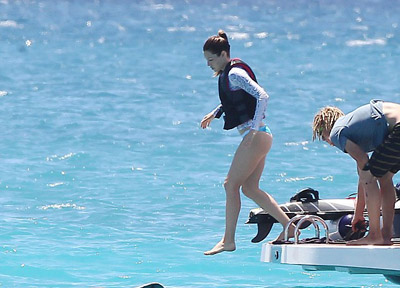 The couple married on October 19, 2012 at the Borgo Egnazia resort in Fasano, Italy. The former 'N SYNC front man will once again hit the road when the European portion of the tour commences in Sheffield, England on March 30th. The tour will wind its way to Russia, before heading to Asia and Africa. Justin will bring the record-breaking stage show back to North America in July before finishing it off in Australia. Currently the tour is scheduled to end in Auckland, New Zealand on October 13th.  -Dailymail