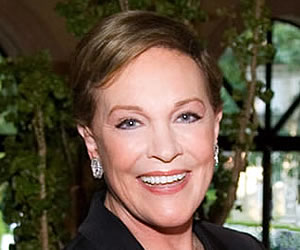 An English film and stage actress, Dame Julie Elizabeth Andrews is also a singer, and an author, with in outstanding career to her credit. Along the way she has won awards like Golden Globe, Emmy, Grammy, BAFTA and People's Choice. A big honor came her way in 2000, when she was made a Dame for services to the performing arts by Queen Elizabeth II at Buckingham Palace.
Julie Andrews is a former child actress and singer who made her Broadway debut in a 1954 production of The Boy Friend, and rose to prominence starring in musicals such as My Fair Lady and Camelot, both of which earned her Tony Award nominations. In 1957, she made her television debut with the title role in Cinderella, which was seen by over 100 million viewers.
Julie Andrews association with Disney brought her considerable fame when she appeared as the nanny in two 2003 made-for-television films based on the Eloise books, a series of children's books by Kay Thompson about a child who lives in the Plaza Hotel in New York City.
From 2005 to 2006, Andrews served as the Official Ambassador for Disneyland's 18-month-long, 50th anniversary celebration, the "Happiest Homecoming on Earth", travelling to promote the celebration, and recording narration and appearing at several events at the park.
The emotion backed moment came in February 2011. It was then that she received a Grammy Lifetime Achievement Award and, with her daughter Emma, a Grammy for best spoken word album for children (for A Collection of Poems, Songs and Lullabies), at the 53rd Grammy Awards ceremony. She was over joied.